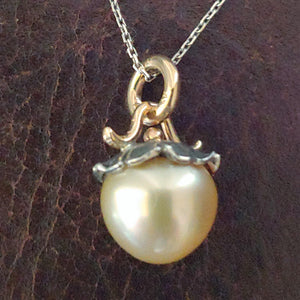 South Sea Golden Pearl Sterling 14ky Pendant by Lori Braun
Regular price $685.00 Sale
This magnificent South Sea Golden Pearl, Sterling and 14ky pendant is an absolute exquisite creation by Lori Braun.  The South Sea Pearl is known for it's natural color and exceptional quality, and Lori's astute attention to this careful selection of this gem is evident.  At first glance, it is stately and fit for a queen (and it really is).  Setting it, however, with a slightly oxidized sterling floral cap and mini 14ky wire bail, brings the wearability toward a more tailored to semi casual feel.
This is a stunning piece and could easily become your "signature piece".
It measures 13/16" long x 1/2" wide.  The golden South Sea pearl measures approximately 10 long x 10 wide.  It's drop shape with little natural blemish only adds to it's desirability.  
This is a sweet piece and will not be around for long.
Lori created this piece in her Minnesota studio.
PT927  $685.00