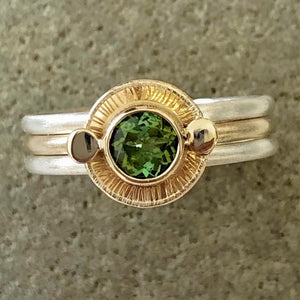 Tourmaline Green 5mm 14ky Sterling Silver Ring by Lori Braun Size 7
Regular price $710.00 Sale
Green Tourmaline 5mm Round Brilliant Cut, 14ky & Sterling Silver Ring by Lori Braun $710   RG129
Finger size is 7
The .45/ct Tourmaline has a fresh green of Spring - color, yet refractions of both lighter and darker greens within are ever present.
Stippled and stamped texture around the tourmaline 14ky bezel create interest at the intersection of the 3 matte finish sterling bands.  The overall feel of Lori Braun's design substantial on the hand without being immense.  It's a simple & elegant, yet clearly artist created design.
Band width is 4.5mm & bezel/top of ring height is 5mm
This tourmaline, sterling and 14KY ring by Lori Braun is a limited edition.  Lori will take special ring orders based on stone availability.  Price will increase for custom order.
Tourmaline Metaphysical Properties
"Tourmaline is thought to be for people who bear a broken heart, as it encourages love, gently disperses emotional pain and dissolves disruptive feelings. It calms the negative emotions that upset relationships."   - Fire Mountain Gems

*All dimensions and weight are approximate.
Made in Minnesota by Lori Braun Designs