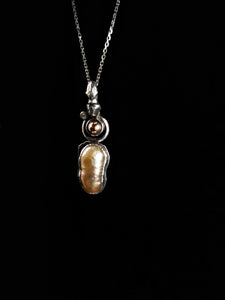 SOLD. Champagne Pink Fresh Water Pearl Diamond Rose Gold and Sterling by Rebecca of BNOX Jewelry Studio
Regular price $290.00 Sale
Champagne Pink Fresh Water Pearl 1.5 mm diamond cast Sterling maple bud 14K Rose Gold bead  by Rebecca of BNOX Jewelry Studio
Champagne pink pearls couldn't speak more to femininity, and this highly lustrous pink pearl with hints of green and gold that play on its surface.   The delicate maple bud casting makes the bail and adds a textural organic crown.  Bezels enfold each stone and the rose gold bead to assure durability.  This adds pleasing concentric shaped elements.   The diamond is off set to add balance in it's asymmetry. 
Try this pendant with bright colors and it looks off white.  Try it with complimentary colors to bring out the pink. 
Rose gold is complimentary on the wider spectrum of skin tones.  I have found it to be far more versatile than yellow gold or silver.
There is a surprise on the back of the pearl's bezel.  It is a cut out which mimics the maple bud bail.
Pendant measures 1 ¼" x 3/8" 
*Rose gold-filled textured cable chain $35.00  1.8 x 1 mm oval 18"  Chain is sold separately if available.