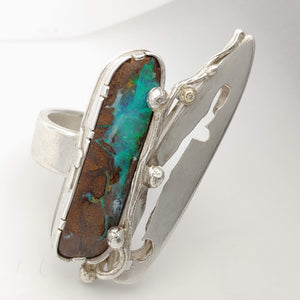 Boulder Opal Diamond Cast Sterling Branch 14KY Ring
Regular price $640.00 Sale
This Boulder Opal Diamond Cast Sterling Branch 14KY Ring started as a large pendant, but Rebecca was in need of a grand power ring, so she created that instead.   The slippery elm caught Rebecca's eye many times on her way to and from the gym.  She finally had a mold made and cast it in silver.  Each silver bud on the branch graduates in size as a drip of rain would delicately, yet rhythmically, slide down a linear catalyst.  
A pendant was the initial intention of Rebecca's design.   But when life says it time to wear a big ass ring, you make a grand ring.... and you wear it to remind yourself that you are strong.
The size 9.25 somewhat sizable.   
2" x 1" Opal and sterling ring opal and design top  
Ring band width 8mm x thickness 2mm